Covid-19 News Message
With regret, due to the Covid -19 situation we have had to suspend the Passport Scheme for the time being. If you are planning to walk St Michael's Way and then continue through Galicia along the English Camino to Santiago de Compostela and need to stamp your passport in order to obtain a Compostela please contact us on mail@stmichaelsway.com and we will endeavour to make special arrangements for you.
St Michael's Way 'Passport" now available. Stamps are located at several points along the path.
More info below.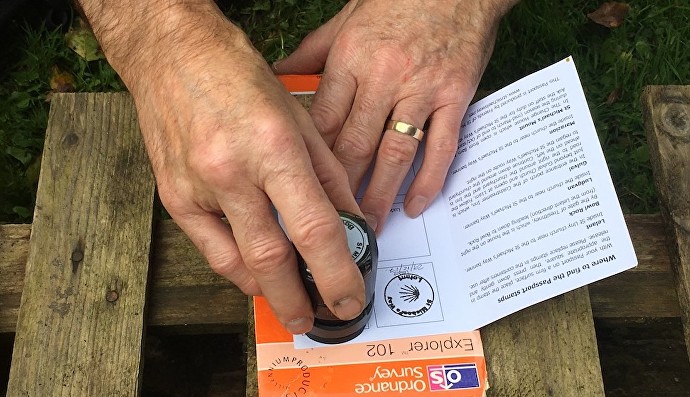 Friends of St MIchaels's Way have produced a 'passport' based on the model used on the Camino in mainland Europe. You can record your walk along the route by pressing the stamo at each location in to the matching square in the passport. The stamps can also be used in a Camino passport to help evidence that you have put in the miles which can now count towards the 100km required to qualify for a Compostela certificate in Santiago.
Where to find your Passport and passport stamps.
• Lelant
Inside St Uny church near to the St MIchael's Way banner.
• Bowl Rock
By the gate of Tresithney, which is the house on the right ( from the Lelant direction) leading down to Bowl Rock.
• Trencrom Hill
On the waymark post by the kissing gate adjacent to the road entrance of the National Trust Trencrom Hill car park.
• Ludgvan
Inside the church near the St. MIchael's Way banner.
• Gulval (optional)
In the entrance porch of the Coldstreamer Inn, which is just beyond Gulval Church and opens at 11am. Follow the road to the right around the churchyard and the Inn is ahead on the left. Continue down around the churchyard to regain the St. Michaels's Way route on the right.
• Marazion
Inside the church near to the St, MIchael's Way banner.
• St Michael's Mount
In the Change House which is open from 8am to 6pm during the season( mid- March to end of Oct/start of Nov). Ask the staff on duty for the St. Michaels's Way stamp.
The passports are available for a donation to Friend's of St. MIchael's Way.
Please give generously - all funds go toward maintaining and promotong this special path.
You may also download passports in word format or as a pdf document